Company Profile
Henan Anyi Electric Power Engineering Design Co., Ltd. (formerly Henan Guangsheng Electric Power Survey and Design Co., Ltd.) was established in 2007. In 2013, it cooperated with Jiangsu Anyi Intelligent Power Transmission Engineering Technology Co., Ltd. (listed company, Shenzhen Stock Exchange Venture Edition, stock code : 300617) cooperation to become a comprehensive company integrating R & D, design, complete equipment, construction, operation and maintenance. Jiangsu Anly Intelligent Transmission Engineering Technology Co., Ltd. (formerly Jiangsu Anly Ultra High Voltage Cable Accessories Co., Ltd.) is a young and innovative national key high-tech enterprise, and is currently the only domestic company that can produce a full range of ultra high voltage cable accessories and provide Underground power transmission (cable and gas pipeline bus) overall solution enterprises, with 29 national and provincial high-tech products, 36 cable accessories patents, including 6 invention patents (4 500kV cable accessory invention patents). Over the years, the company has actively carried out domestic and international business, completed a large number of consulting, survey, design, supervision, general contracting and other engineering projects, gradually established a relatively mature and perfect system, and accumulated rich engineering design and management experience.
The company has created a high-quality professional team in engineering practice. Among the more than 100 employees, more than 70 professional and technical personnel, more than 10 senior engineers, registered architects, structural engineers, cost engineers, builders and consultants, etc. There are more than 20 person-times with various qualifications for registration.
The company has strong technical force, complete professionalism and well-equipped equipment. Possess the national power industry (thermal power, power transmission, power transformation) design level B qualification, engineering surveying professional (engineering survey) level B qualification, engineering consulting level C qualification, level 3 professional contracting for power transmission and transformation projects, and safety production license . It has been in the forefront of the credit evaluation of the design and contractor of the State Grid Power Transmission and Transformation Project.
In the new era, we strive to create a one-stop service model of consulting, design, construction, equipment, operation and maintenance, and energy-saving transformation. At the same time, power projects cooperating with the government can adopt BT and leasing methods. The method achieves the purpose of revitalizing land resources and optimizing planning. The traditional division of labor was upgraded to a systematic and modular project solution, creating a new business model, and becoming an operator integrating energy management and integrated services.
Our company obtained gratifying results in the 2016 credit evaluation of power transmission and transformation engineering design contractors by the State Grid Infrastructure Department. A total of 294 design contractors nationwide participated in this evaluation, including 10 comprehensive Grade A, 57 Grade A, Among the 227 Grade B design units, our company ranks first among the three Henan private enterprises that are shortlisted, and is ahead of the companies in the system.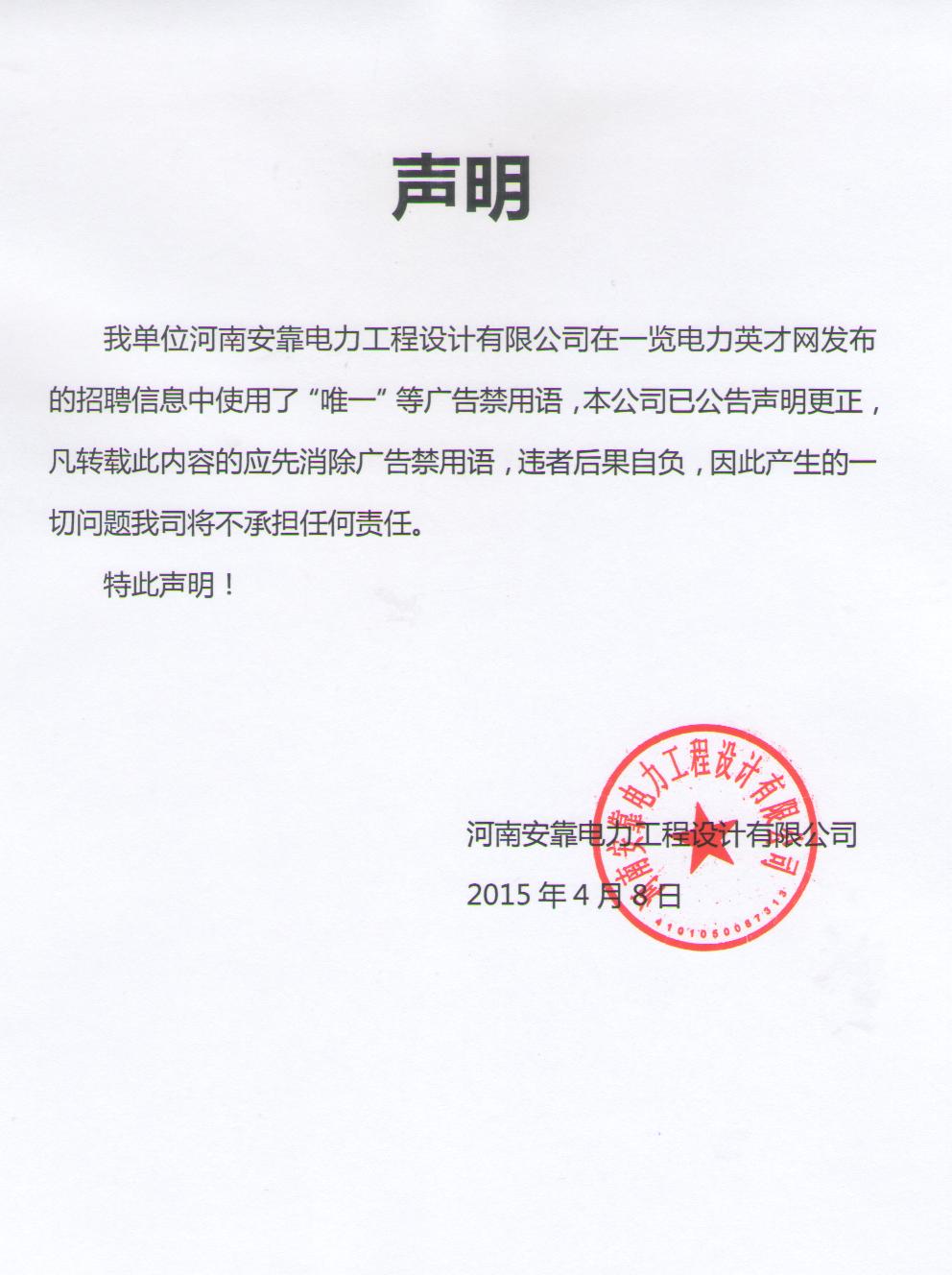 Jobs
contact details
| | |
| --- | --- |
| Contact: | Wang Gong |
| contact address: | 19th Floor, Building 13, East District, University Science Park, No. 149 West Third Ring Road, High-tech Zone, Zhengzhou, Henan, China |
| Postal code: | 450001 |